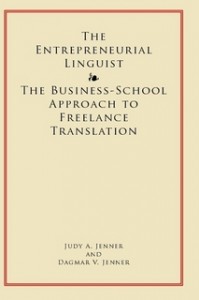 We published our "Entrepreneurial Linguist" book in the spring of 2010.  As of February 2013, more than 2,200 copies have been sold. It has received fantastic reviews and it's required reading at several universities around the world.
While our book is also available through major online retailers such as Amazon, please support Lulu, which made the publishing of this book possible, by purchasing the book on their site. The paperback is $25 (plus shipping). You can also choose an instant download for $17. When you click on the button, you will automatically be taken to your shopping cart. In addition, our book is also available in a variety of formats fit for e-readers, including the Kindle (on Amazon). Thanks for your interest!
The Entrepreneurial Linguist: Paperback, 200 pages
The Entrepreneurial Linguist: File Download
€19.93 / $25.00
€13.55 / $17.00
In addition, InTrans Book Service, all linguists' favorite bookstore for dictionaries and other industry publications, has graciously agreed to carry our book. We highly recommend you visit Freek Lankhof's website, browse the extensive selection, and choose your favorite publication!
Read the reviews:
"When I talk about books or software I often start with, "This XYZ is not for those among you who. . . ." Truthfully, however, I cannot think of many translation professionals for whom this book would not be helpful (maybe with the rare exception of those who already have so many clients who pay such high rates that there really is not much else to hope for — but even for those the Jenners have advice: never stop marketing because you will lose some of your clients)." Jost Zetzsche,  The Toolkit Newsletter
"Although I've been in the translation industry for nearly a decade and wrote a translation business book, I've found myself referring to The Entrepreneurial Linguist on a regular basis ever since I read it." Corinne McKay, Thoughts on Translation
"This book will give you a pain in the neck — you won't stop nodding while you read it!" Isabel Hurtado de Mendoza, ITI Bulletin
"What the authors excel at most of all is communication, both in online media and more traditional venues, and this provides the reader with a lot of unique, valuable and highly digestible fare." Kevin Lossner, Translation Tribulations
"..the book could easily be the best $20 or so you invest this year." Fred Uleman, Japanese Association of Translators
"…if you've ever wondered about direct clients — where to find them, what all the fuss is about, or whether you'd even want them — then this book was written for you." Sarah Dillon, There's Something About Translation
"One of the best translation-related purchases I made this year so far and certainly the best US$ 25 I spent last April was the then newly-released Entrepreneurial Linguist book…If you do not know the Jenner sisters, you had better read what they have to say." Fabio M. Said, Fidus Interpres
If you speak French, you might want to check out Sophia Ozag's review on her blog, The Translation Wor(l)ds.
Product Details:
ISBN 978-0-557-25623-5
Copyright: Judy A. Jenner and Dagmar V. Jenner (Standard Copyright License)
Edition: First Edition
Publisher: EL Press
Published: April 20, 2010
Language: English
Pages: 200
Binding: Perfect-bound Paperback
Weight: 0.78 lbs.
Dimensions (inches): 6.0 wide × 9.0 tall
The "Entrepreneurial Linguist: The Business-School Approach to Freelance Translation" book gives freelance linguists all the tools they need to go from "just" linguists to being Entrepreneurial Linguists. It includes easy-to-understand lessons based on teachings of business school, with many case studies, examples, etc. The book focuses on how to market yourself, how to reap the benefits of web 2.0, what economics can do for you, advertising strategies, how to streamline your bookkeeping, how to build long-term relationships, insightful tips on productivity, time management, and life/work balance, professional development, and much, much more.  Translation-related cartoons from talented cartoonist and translator Alejandro Moreno-Ramos will have you start each chapter with a smile. The following is a part of the index:
The New Mindset
Organization and Accounting
Social media and Web 2.0
Marketing
Business Development
Pricing
Negotiating
Professional Development
Giving Back
Work/Life Balance
Entrepreneurship Recap